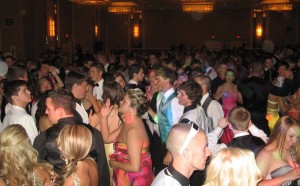 Always make sure you hire the right DJ for your PROM! There is nothing less amusing when the DJ is not in tune with what the kids, i mean young adults, want to hear! Here a few quick tips to ask your DJ when you are wanting them for the dance.
1. Is your music current? have you ever seen a DJ that didn't have the latest songs for a PROM the dance becomes a yawn feast and the only kids out there are the ones that have no one to dance with anyway. That is never good to highlight at a school dance.
2. Is the music edited? This just makes sure that no one in your crowd will become offended. Yeah the kids like all the rough language because its cool, but it makes for a un-classy PROM and a whole bunch of awkwardness.  The kids will add in the words if they know them but make sure your DJ is professional enough to have the latest music without the rogh language.
3. Lights? How many lights does your price include? What is the DJ bringing with him for the rate you have been given. Many schools have a budget and with that budget sometimes they cannot get all the awesome bells and whistles that come with a high dollar DJ, or overpriced DJ, however you want to call it. Bottom line you want to make sure there are going to be some lights to create a fun dancing atmosphere for the students. If your budget will allow to pay more, find out what your budget can get for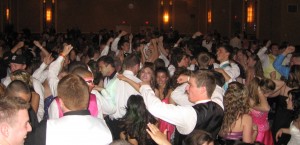 the evening. Some DJs will throw in a few lights and for an extra $50 bucks you may get a little more. Just make sure you ask because some DJs do not bring any…I KNOW how lame is that!
Last but not least: Find out if he even likes to do them? That's right sometimes DJs do not like to DJ the school dances which can make the PROM go bad all night long. Make sure you feel the DJ wants to be there and is comfortable with doing the event. Young adults deserve a great PROM that is their special night so don't let the DJ steal that away from them.
Just make sure you get the right DJ or it can make the evening a total bummer for your students. Call me to see if I am able to give you tips if you are out of the area or if I am in your area call me so I can help make sure your next PROM night is a blast! 865-207-6579