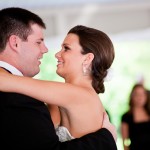 1. Look Professional – A DJ should always dress professionally by wearing a suit or tuxedo…no If ands or buts. Also the set up should be clean and not cluttered. Most weddings are elegant and classy and there is nothing like a unsuited DJ and wires showing everywhere to change the attended look.
2. Play your music – The DJ should play the type of music you favor along with a few songs that they know work for your group of guests.
3. Keep your reception going – Whether the DJ plays the right music, leads a few line dances, or has games your DJ needs to know how to keep the reception going from start to finish.
4. Have FUN – It's okay for the DJ to look like they are having fun because a sad DJ is a poor DJ in my opinion.
5. LOOK out for you… the Bride and Groom – DJs should always look out for the best interest of the Bride and Groom, if they are not happy no one is going to be happy. The DJ should check in every now and then to see if there is anything they need. They should not bother the Bride and Groom constantly, however touching base doesn't hurt either.