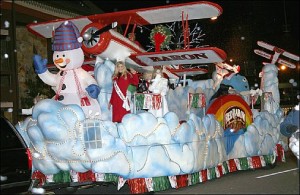 Soon to be Brides and Grooms as you plan to get "hitched" in the Smoky Mountains you should know what there is to in the area while you are making your plans. The previous blog was about our Winterfest that happens every year from the beginning of November through the end of February. While this is all happening we have several parades. One of the biggest parades in this area is the Fantasy Lights Christmas Parade! Is is a massive parade with bands, large floats, characters, and of coarse SANTA! Checkout the link below to learn more.
http://www.gatlinburg.com/events/details.aspx?id=17
You may not be able to make it this year, however you  may want to make plans for next year! It is always beautiful in the mountains, but there is something about the Winterfest  lights and activities that make these mountain come to life! Don't take my word for it come on over and see for yourself! It will make your honeymoon just a little more special.