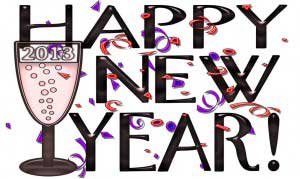 Did you know that on December 31, 1907 saw the very first ball lowering in Times Square?
The modern ball that is dropped is made from Waterford Crystal and weights over 1,000 pounds. There are over 9,000 LED lights, but uses hardly any energy. The ball begins to drop at 11:59 and completes the journey exactly at midnight to ring in the New Year.
On New Year's Eve, about 75% of American Parties are with 20 people or less.
Noise making and fireworks on New Year's Eve is believed to have originated in ancient times, when noise and fire were thought to dispel evil spirits and bring good luck.
The Spanish ritual on New Year's eve is to eat twelve grapes at midnight. The tradition is meant to secure twelve happy months in the coming year.